Why should you get Professional Electrical Services in Dubai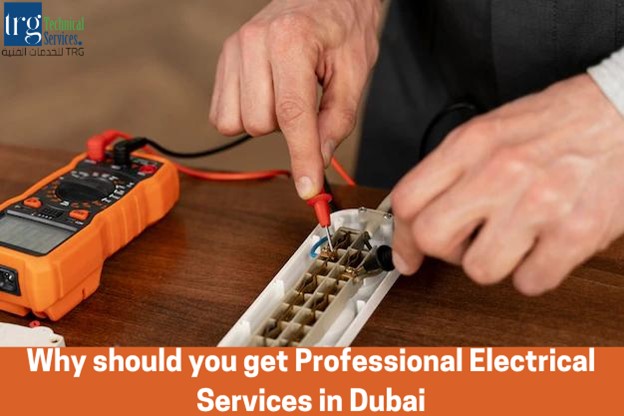 Despite the fact that electricity is among the most harmful products to work with, the vast majority of people attempt to resolve electrical problems on their own. As a result, it should come as no surprise that many people lose an arm or a leg while trying to fix complicated electrical issues. When someone without adequate training attempts to fix a critical electrical problem, this can occur. This Blog will go over some of the most important reasons why use expert electrical services in Dubai.
There's a good reason why electricians provide competent services. You should not play with electrical wiring. When done with proper training, the risks are high. It's possible that our reasoning won't convince you. As such, we will mention a few of the many arguments in favor of bringing in the pros. In addition to alleviating anxiety, hiring experienced electrical services in Dubai can shorten project duration, ensure high- quality results, boost security, and reduce costs.
When you're dealing with electrical problems at home, it's important that they are fixed properly. You might realize all of the upsides to hiring experts. Let's get down to business without further delay.
Benefits of Hiring Professional Electrical Services
Excellent job
Hiring a professional electrician is the best method to make sure the job is done right. Once expert level electrical services have fixed an electrical issue, it rarely returns. Experts have studied all aspects of electricity and know how to properly address any problem that may arise. It's also important to note that professionals have access to all the equipment and tools they need to do the job successfully.
Reliability
Here, dependability implies that the electrical equipment the professional's install will serve their purpose for many years to come. As a business, we know how frustrating it is to pay to have appliances installed, only to have them break down shortly after. This could cause you to feel downhearted. But when you use expert electricians, you won't have to worry about accidents like that.
Licensed and Guaranteed Work
The fact that Dubai's electrical services providers are licensed, insured, and stand behind their work is a major selling point. If an electrician messes up during installation, for instance, they will return for free to make the necessary adjustments. If the electrician makes a mistake and your appliances are damaged or destroyed in a fire, the insurance will pay for the repairs.
The fact that Dubai electrical service providers are licensed, and stand behind their work is major selling point. If an electrician messes up during installation, for instance, they will return for free to make necessary adjustments. If the electrician makes a mistake
Cost Effectiveness
The vast majority of those who go for the DIY route do so because they wish to cut costs. The problem is that this strategy may end up backfiring. As a result, think about what would happen if you attempted an electrical installation and it resulted in a fire, in addition to the cost of buying the proper tools. Can you imagine the insurance company footing the bill for that? The property's potential market worth is another factor to think about. Having proof that electrical work was performed by trained professionals is often helpful.
Professional Electrical Services
The assurance of a high-quality result is another compelling argument in favor of using a professional service. An incompetent electrician should not put anyone's loved ones in danger. When electrical work is up to code, it's straightforward for any electrician to assess the situation and make recommendations for a permanent fix.
Experienced and Educated Experts
A professional electrician is an expert in their field, having received training and education that the average person lacks. Consequently, these specialists are fully versed in the field of electricity and have extensive experience doing so. The whole thing takes a long period, but in that time they learn a great deal about electrical services and become experts in their field.
Following Safety Measure
Electricians who work professionally have access to both high-quality tools and technical know-how. Thus, you can rest easy knowing that nobody will sustain any injuries throughout the operation. In addition, you may trust in the consistency of the service's high quality.
Protection of Appliances and Devices
You probably spent a lot of money on your appliances and electronics. Therefore, if you do a poor job, the device may be damaged beyond repair. Hiring licensed electrical services in Dubai is a must if you care about the safety of your electronics. To put it simply, if you don't have a professional electrician install your home's electrical appliances, the manufacturer's warranty might not cover the repairs.
In Dubai, our TRG technical services company will call if you need to find electrical services you can trust. There are a variety of ways you can get in touch with us. The internet makes it easy for you to get in touch with us in a variety of ways, including phone calls and Whatsapp messages. If you ever need assistance, our hardworking staff is available for you.